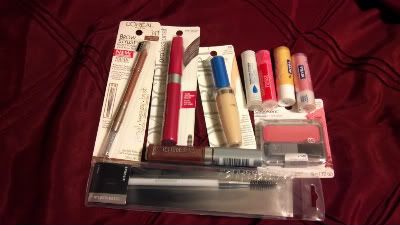 You may enter only on 1 giveaway. If you accidentally enter more than once the duplicate entries will be removed.
I am excited to be teaming up with
Couponing In PA
& some other amazing bloggers to bring you this giveaway for $25.00 in makeup & coupons. This will run from 12:01 AM on 10/29 - 12:01 AM on 11/5.
Additional info for how to enter:
- FB likes - This is one of the 2 mandatory entries. You must like all of the pages. If you are entering with a name that is different than your fb name post it in the additional info box.
- Read & agree to the terms at the bottom of the widget - mandatory entry
- Follow with GFC - if you don't see the widget then refresh the page. Put your display name in the additional info box. After you click "join this site" & sign in using the account of your choosing it will show your display name, so if you aren't sure what your display name is then this is how you find it =)
- Follow with twitter - put your twitter name in the 3rd box. If you aren't sure what yours is then log into twitter & your name will show in the upper right.
- Tweet a message - You must put the link to the message you tweeted in the additional information box. If you aren't 100% on how do this then then click here to view more information.